The Rotary Club of Kings Bay
George Washington Carver Community Center
95 Three Sisters Spring Trail
Crystal River, FL 34429
Every Wednesday @ 12:00 PM
View the Calendar for more event information.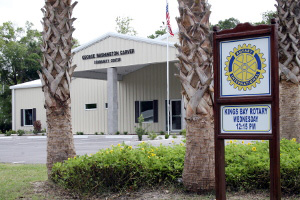 Looking for Stone Crab JAM Music Festival ™ tickets? Online tickets are now available! Beat the rush and save some money! Only 12.50 + service change (total less than at the gate). Get yours now!
Click here to order
Speaker Announcements
Kings Bay Rotary Club
Meetings (In-Person) begin at 12:15PM on Wednesday's. 
November 8 – Vicky Lozzia
November 29 – Eloy Nunez
December 13 – Jim Engelmann Membership Chair for Rotary District 6950
January 10 – Alyssa's Critters
January 24 – Ernest Hopper
January 31 – Lyndsay Morrow
Lunch served by Oysters Restaurant
Please bring in underwear, socks, shirts and shorts to the KBR meeting for the Citrus County Schools
Want To Become A Member?
Find out more about being a Kings Bay Rotarian.